Join the Canadian Bird photographer's Facebook Group, Click on the icon to the right.
All material on this website is © David Lilly
No material maybe reproduced without the written permission of the copyright owner.
Last updated:
Most Recent Photographs - Magpie, Blue Jay and Collard Dove.
by David Lilly
Recommended Equipment for Bird Photography
This is the reccommended equipment by the Canadian Bird Photographer for bird photography. Some of the equipment is expensive, buy what you can afford. Any combination of the equipment listed will get you into bird photography. Remember, no matter what equipment you use, it is important to learn how to use it. Note; it does not matter if the equipment is Nikon or Canon etc. < To see recommadations Click Here >
Article - Removing unwanted objects from a Bird Photograph by David Lilly
Many bird photographers assume if they buy the latest and best camera they will be a better bird photographer. We know that is not the case. Yes, you will have more megapixels, the latest processors and and a little better ISO settings for low light.

During the last ten years camera technology has changed fast. Every new camera had some improvements worthy of upgrading. However, the technology has now gotten to the point where their is no need to upgrade if you have the latest camera. As a matter of fact today (2015) a bird photographer could purchase a camera for less than $800.00 and have more then enough resolution for any photography. Let me explain. <Read More>
Update: I just bought the Nikon D 7200 - Email me if you have questions on this camera.
Article - What Camera Should I Buy? by David Lilly
Click on any photograph to enlarge.
Red-brested Nuthatch by David Lilly
Sometimes we have to photograph a bird with unwanted branches and other objects in the photograph. However, with modern photo editing tools we can remove unwanted objects easily. A quick fix to improve the look of a bird photograph is to remove unwanted objects from the photograph. In the photograph of the Grey Catbird below I removed the branches in the background. I was an easy fix, you can use the Clone tool In Photoshop or the Healing tool in Lightroom or the best is Snap Heal an App in the App Store. < Read More >
Grey Catbird by David Lilly
Bird Portraits Anyone by David Lilly
Many bird photographers photograph birds in a traditional form. They strive for the perfect light, a perfect perch and a tact sharp image. All of these requirements are not easy to accomplish.
However, every once in a while Bird Photographers might want to change it up and do something different. Portrait photography of birds is another way to try something different. Getting portraits of birds is very similar to people portraits. You get the main light (useably the sun) on the subject and then position yourself 90% from the sun. You will have shadows on one side of the bird and see only one eye but remember it is the pose you are looking for. This may take some patience as you will not be able to tell the bird to turn it's head.
American Kestrel by David Lilly
Canadian Bird photographers can enjoy their bird photography in winter as well as in the summer. There are many species of birds found in Canada during the winter. As a matter of fact some species can only be found in the southern part of Canada in the winter, Snowy owl and the Snow Bunting for example. However, winter bird photography does present some challenges.This is paragraph text. Double click here to edit and add your own text. < More >
Winter Bird Photography Tips by David Lilly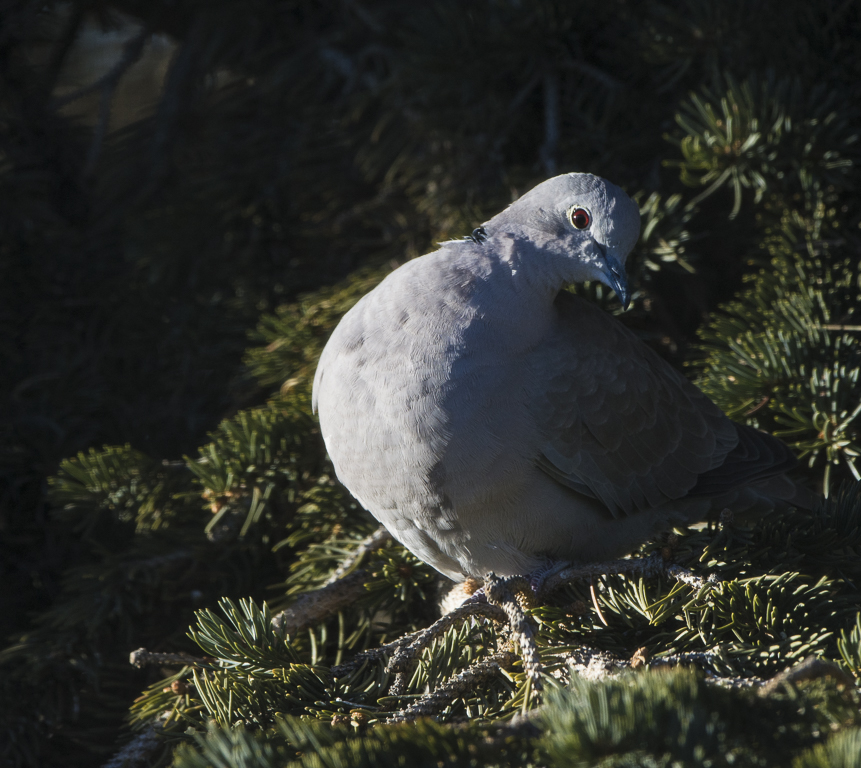 Collard Dove by David Lilly