Click on any photograph to see a larger view.
All photographs by David Lilly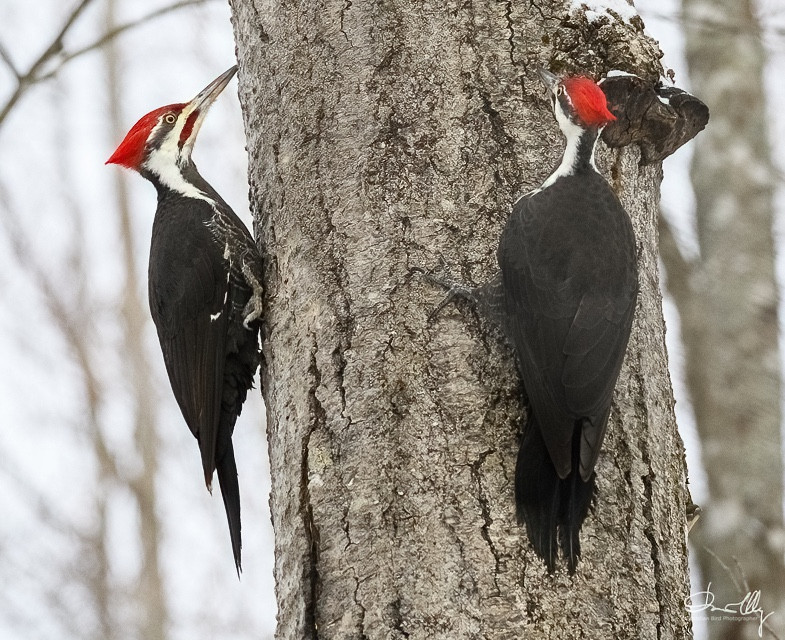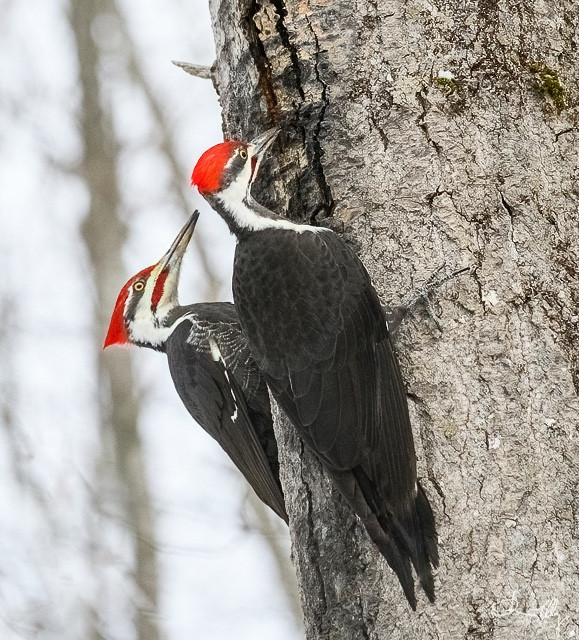 Two of the Same Woodpeckers
Two Pileated Woodpeckers on the same tree was unusual for me.
I have never seen two woodpeckers on the same tree doing a strange behaviour as I witnessed in this situation. So let me explain by providing what some birders on my Facebook page offered as a possible explanation.
Both woodpeckers were male. One of the woodpeckers was sort of chasing the other woodpecker around the tree. They continued this behaviour for some time. As a result I photographed the woodpeckers and finally left them where I had spotted them.
Initially, I thought it was a mating ritual, but then noticed they were both male.
A birder on Facebook suggested it was a separation event where a parent was trying to chase the juvenile male woodpecker out of his territory. For me this is the best explanation. Also one of the woodpeckers was bigger than the other and had a more pronounced red under the beak.
In the first link below there is a good explanation for the routine I observed.
Here are some links with more info.
https://sora.unm.edu/sites/default/files/journals/condor/v061n06/p0377-p0387.pdf
https://www.allaboutbirds.org/guide/Pileated_Woodpecker/lifehistory
https://www.wild-bird-watching.com/Pileated_Woodpecker.html
Nikon D500 with a 200 - 500mm F 5.6 PF Nikon Lens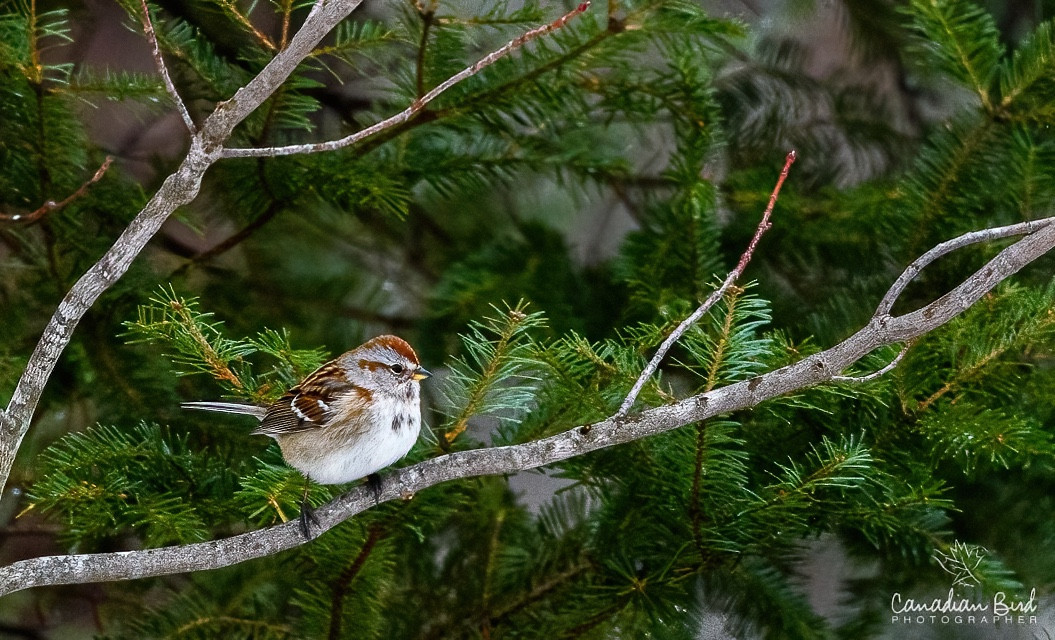 Winter here in New Brunswick can bring a variety of Boreal Forest birds some years.
This year has seen an influx of Common Redpolls.
The American tree sparrow is also one of the sparrows that winter in this part of Canada.
These migrants provide variety along with the local species making for a delightful winter of bird photography.
Nikon D500 with a Nikon 500mm pf 5.6 lens.
This winter I have seen a Northern shrike three times in the forest behind my house.
However, this is the first time I have seen a juvenile Northern shrike. He flew in attempting to catch a Common redpoll but was unsuccessful and then disappeared in the woods.
Juvenile Northern shrikes are brownish looking compared to the adult that looks grey.
Here is a link for more info on the Northern shrike
Nikon D 500 with a Nikon 500mm F 5.6 pf lens.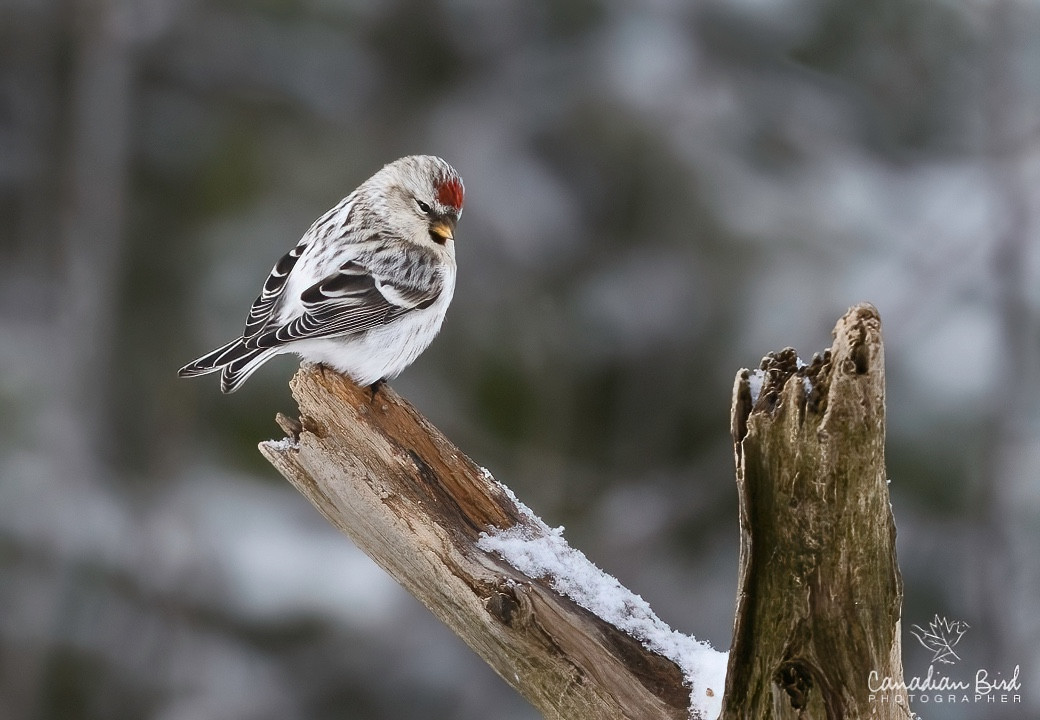 Common Redpolls vs Hoary Redpolls
This winter has been great for Common redpolls and some not so common Hoary redpolls.
I was sitting in my blind and observing, photographing Common redpolls as they gathered at my bird feeders . Then I noticed a couple of the redpolls looked different; they were ghostly as described in one of my bird books.
I have seen and photographed Common redpolls many times over the years and of course heard about Hoary redpolls. However, I have never seen a hoary redpoll until a week ago.
After observing these redpolls, I looked at the numerous bird books and concluded that in fact they were Hoary redpolls.
Knowing how rare they are, I definitely wanted get some photographs. This proved more difficult than I thought. The Hoary redpolls were few and mixed in with the Common redpolls.
I waited and followed them around in my view finder and finally I managed to snap a few photographs.
To the right are my best photos of the Hoary redpolls. The bottom photo shows the difference between the Common on the left and the Hoary redpoll on the right.
Nikon D 500 with a Nikon 500mm F 5.6 pf lens.
Some Photos From The Past Couple of Weeks
I have been trying a few different bird setups in my backyard in the last couple of weeks as you can see here are my results below.
The Black-capped chickadee is my favorite shot it looks like it's in a studio. I did manage to get a shot of a Black-capped chickadee in flight.
The backgrounds are a little dark but I like that dark background it brings out the contrast between the bird and the background. I also use some Lightroom techniques to make the background and the background darker.
To capture some of these birds in flight is just a matter of luck. I set in a blind at least two hours a day for the last couple of weeks as a matter of fact I've been sitting in my blind most of the winter. Some days I get a couple of good shots and some days I get nothing.
For most of these shots I used a shutter speed of at least 2000 of a second at 5.6, ISO was automatic maximum of 3200.
I just bought the new Nikon 500 mm PF lens and I have been trying it for a few weeks. I am very happy with the lens as it is much lighter compared to my old 500mm Nikon F4 lens as much as it is much easier to handle.
Snow Buntings are Uncommon in a Tree
In the winter the early birds come south one of those birds is the Snow Bunting.
The Snow bunting will fly as far north as Greenland and the Canadian Arctic.
In the winter when they do come to the lower latitudes they are often found in tall grassy fields. It is very uncommon to see them in trees as the Bunting on the right. Their camouflage is more suited for the snow-covered ground.
I was driving down a quiet country road and spooked a flock of Buntings, some flew away but some landed in a tree and allowed me to get a couple of good photos. However, they did surprise me by landing in a tree.
Nikon D 500 with a 200 - 500mm Nikon lens.