Click on any photograph to see a larger view.
All photographs by David Lilly
Some Photos From The Past Couple of Weeks
I have been trying a few different bird setups in my backyard in the last couple of weeks as you can see here are my results below.
The Black-capped chickadee is my favorite shot it looks like it's in a studio. I did manage to get a shot of a Black-capped chickadee in flight.
The backgrounds are a little dark but I like that dark background it brings out the contrast between the bird and the background. I also use some Lightroom techniques to make the background and the background darker.
To capture some of these birds in flight is just a matter of luck. I set in a blind at least two hours a day for the last couple of weeks as a matter of fact I've been sitting in my blind most of the winter. Some days I get a couple of good shots and some days I get nothing.
For most of these shots I used a shutter speed of at least 2000 of a second at 5.6, ISO was automatic maximum of 3200.
I just bought the new Nikon 500 mm PF lens and I have been trying it for a few weeks. I am very happy with the lens as it is much lighter compared to my old 500mm Nikon F4 lens as much as it is much easier to handle.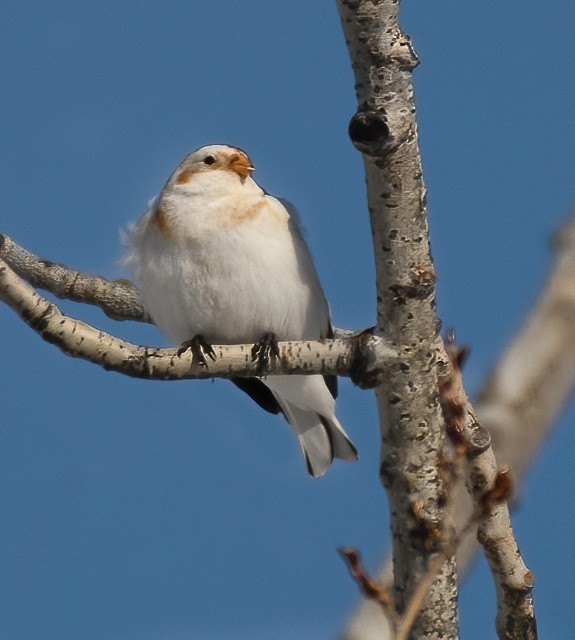 Snow Buntings are Uncommon in a Tree
In the winter the early birds come south one of those birds is the Snow Bunting.
The Snow bunting will fly as far north as Greenland and the Canadian Arctic.
In the winter when they do come to the lower latitudes they are often found in tall grassy fields. It is very uncommon to see them in trees as the Bunting on the right. Their camouflage is more suited for the snow-covered ground.
I was driving down a quiet country road and spooked a flock of Buntings, some flew away but some landed in a tree and allowed me to get a couple of good photos. However, they did surprise me by landing in a tree.
Nikon D 500 with a 200 - 500mm Nikon lens.
Given the situation and the winter, my bird photography has been limited to my local area.
I have made the most of my excellent backyard. I live by and border on a nature preserve with a forest of Maple, Birch, and some Spruce. You could say it is excellent for attracting birds. Since I have lived here I have had 47 different species of birds. From a wildlife point of view, I have a Red Fox and Deer that come on occasion too.
This winter the bird species are different than last winter. I have Black-capped chickadees, 50 plus Common Redpolls mixed with Hoary Redpolls on a daily basis. Last winter I had a lot of purple Finches and American Goldfinches. An occasional Blue Jay makes its presence known some days. Almost every day I see a Sharp-shinned Hawk but I have not seen him catch a bird. The bird feeders are close to the forest so the birds have an escape route.
For the bird photographs to the right, I have been using a Nikon D 500 with a Nikon 500mm 5.6 pf lens mounted on a tripod. I have set up this combination in my basement and photograph them through an open window. It works very well on cold windy days.
I only have good light for about two hours a day in the winter, even then it is side lighting.
On the east coast especially here in the Bay of Fundy, NB there are a lot of ducks and Loons that wander down from the frozen Arctic and spend their winters here in a more mild ice-free climate.
The last couple of days I went to photograph some of these birds. Of course, it is always a crap shot to find these birds. They are often way out in the bay with no possibility for photographs. however, on this trip, I did get lucky.
Of course, with any bird, I tried to position myself with the sun over my shoulder.
I have seen ducks and loons before I got close to a wharf in a location I have visited before. So, that would be my starting point. I was lucky. Before I got to the wharf I could see some birds. They were on the leeward side, there was no wind and I could get down low to the water.
As I got closer I could see there were Female Common Elders and two Common loons in winter plumage very close to the wharf. I slowly made my way down to the lower wharf and hide behind some railing, which also doubled as a support for my lens. The two photos to the right were my results. I had about one hour for the first day then the weather turned horrible with no more chances for photographs.
Nikon D 500 with a 200 - 500mm Nikon lens.
Spring is my favorite time of the year for Bird Photography.
Today, I spent an hour or so with a pair of Pileated Woodpeckers excavating a hole for a nest.
I have read in some books that only the female excavates the nest hole, but today I noticed this is incorrect. I saw the woodpeckers switch around a couple of times.
The woodpeckers found a dead tree at about five meters above the ground. I did notice there were possible nest holes from previous years - maybe it is their preferred tree. The fact that the hole was high in the dead tree made it difficult for great photographs. A technique I used was to move away from the tree and decrease the angle. Of course, it also does not allow for close-up photos. My results from today are on the left
The nest was on the south side of the tree. It took me a few minutes to locate the woodpecker. There was not the usual loud banging associated with the Pileated woodpecker but rather a softer tapping sound. As I listed I observed one large dead tree and concluded that must be the tree.
The first woodpecker was a female as in the photos to the right. After 15 minutes or so the male showed up and the female left but came back.
Nikon D 500 with a Nikon 500mm 5.6 pf lens.
Spring is my favorite time of the year for bird photography.
For me, it is like a revival of life after being frozen and covered in snow all winter.
When I see the American Robin I am confident that spring has sprung. I love photographing Robin. Along with the Robins come other spring birds, the Eastern Phoebe, Bonaparte's Gull, and the Ring-billed Gull.
Nikon D 500 with a Nikon 500mm 5.6 pf lens.